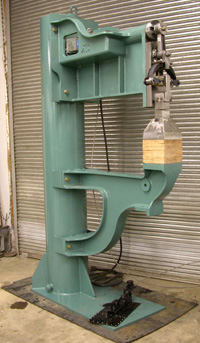 I met Renato Muskovic, from Surrey, BC, Canada, when he took my professional metal shaping seminar in 1993. At that time Renato was a competent metal shaper, having served an apprenticeship in Italy as a young man, primarily with hand tools and the use of the wheeling machine. Taking my seminar showed Renato how the "Power Hammer" can be used to change the thickness of sheet metal in developing compound curves much more efficiently. I have stayed in touch with Renato over the years, and several years ago, he decided to build a professional new power hammer. Being a metal shaper himself, and having used the old cast power hammers, he realized the benefits of a cast machine. He chose the advanced design of the larger Yoder power hammer K-90-M as his model.
After a considerable amount of work, Renato has built, what I feel is a machine of extremely high quality, mirroring the best of hammer designs available. This is a very professional machine that will operate with great power and smoothness. This newly built hammer takes advantage of the well tested ideas from the past, to withstand the test of time into the future. I would highly recommend this unit for anyone interested in a serious professional machine. Tooling packages are available at additional cost.
As the hammer was being finalized to operation, here is a brief description that Renato sent me:
All the stationary parts are made of high quality cast iron. The ram and the bell crank are made of high carbon steel, heat-treated and stress relieved. The ram guide has a brass shim like in a Yoder hammer. The approximate weight of the hammer is 2,360 pounds, which includes the post. Everything that you see was made by me here in Vancouver (except the bearings . . . made in Germany).
Although the one pictured here has been sold, more are currently being built. If you are interested in purchasing a new power hammer, email me and I will get you in contact with Renato so you can deal with him directly.