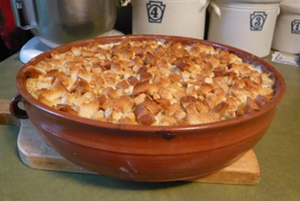 Macaroni and Cheese
This recipe serves 12;
I sometimes just make half a recipe
8 tablespoons butter
6 slices good white bread, cut or crumbled into small pieces
5½ cups milk
½ cup flour
2 teaspoons salt
¼ teaspoon freshly grated nutmeg
¼ teaspoon black pepper
¼ teaspoon cayenne pepper
6½ cups grated sharp white cheddar cheese
½ cup parmesan cheese
1 pound elbow macaroni
Preheat oven to 375°. Butter a 3-quart casserole. Set aside.
Breadcrumbs for Topping - Melt 2 T butter and pour over the bread crumbs you crumbled and set aside.

Warm milk in a saucepan. Melt remaining butter in another pan over medium heat, add flour and stir for 1 minute.

Whisk in the warm milk a little at a time, until smooth. Cook, whisking constantly until it bubbles, 6-12-minutes.

Remove pan from heat and stir in the salt, nutmeg, pepper, 3 cups of the cheese and set the sauce aside.

Cook the macaroni a little less time than the package says as it will cook more in the casserole. Drain and stir into the cheese sauce.

Pour mixture into the casserole and sprinkle with remaining cheddar and Parmesan. Top with prepared breadcrumbs and bake until golden, about 30 minutes.

Leftovers can be frozen for a short while.
For more flavor sauté in the butter ½ cup or so of chopped onion until tender and then add the flour.